about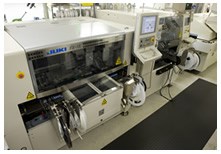 Sturdy Corporation is a global supplier of mechanical, electrical, electronic and software solutions for a diverse range of markets with a focus on applications designed for harsh environments. Operating from its "concept to completion" platform, the company has the on-site capabilities to design, manufacture, validate and distribute quality products to meet their customers' changing needs and specifications. Headquartered in Wilmington, North Carolina with facilities in Detroit, Michigan and Milton Keynes, United Kingdom, Sturdy has been providing superior products and customer service since 1971.
Sturdy Corporation is a full service provider of mechanical, electrical, electronic and software products. Our production facility in Wilmington, North Carolina boasts 140,000 square feet of space and serves as the hub for our product design, development, testing and manufacturing operations. Designed to support our "concept to completion" platform. Our facility is outfitted for maximum efficiency, including:
Engineering Research and Development Center
Product Reliability Testing Laboratory
Printed Circuit Board Assembly Operations with Thru Hole & Surface Mount, Rigid and Flex Assemblies
Small Parts Machining Operations
Component Final Assembly Operations
Component Testing Systems
Warehousing for Product Inventory
Tool and Die Fabrication
Our state of the art facility has achieved ISO/TS 16949, ISO 14001 and ISO 9001:2008 in addition to special recognition by some of our prime clients:
Ford Q1 Preferred Supplier Quality Award
Ford Total Quality Excellence (TQE) Winner
Caterpillar Preferred Global Supplier
Detroit Diesel Quality Award


You may download a copy of any of our quality certificates by clicking on the one you wish to print.